BARN AVAILABLE FOR LEASE
Barn for lease/$150/month. One horse only. No cribbers, weavers, destructive animals. Leaser will have to pay my cleaner for daily cleaning (This is the only way I am comfortable leasing.) The shed does not go with the barn...store hay next to shed or in the stall. The tack room is insulated and clean. Barn has lights and electric outlets galore.Barn Cleaner will cost you 50/week and will throw hay in the morning and top off water. Your barn will get manure removed 7 days a week and will do the job right...also available for night feeding and care while you are on vacation. Mary can be reached at 509-521-8169 or mmajetich@gmail.com.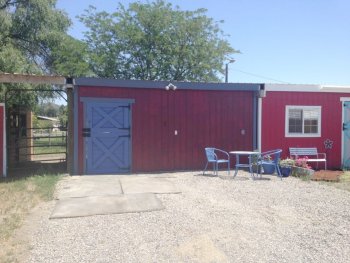 SADDLES FOR SALE
I have two saddles for sale. One is a 16" Pessoa jumping saddle excellent condition. Bought new $2300, asking $800. The other saddle is 17" stubborn VSD excellent condition. Asking $600. Contact Kathi Dunbar at sunsettkennels@gmail.com or 509-392-9828.
HORSE AVAILABLE FOR LEASE
Alicia's 13 year old mare Lena is available for lease to the right person. Distributed care as well as leasing cost ($230-$250/month) can be negotiated in person. Contact Alicia Kary at 509-713-9891 or Akary62@gmail.com.
TACK CLEANING
Equine Blanket and Tack Cleaning Services available. A partner with Cooper Saddle Shop to do blanket, saddle, and tack repair. Blankets must be clean before repair. Additional repair fees will apply depending on the severity of the blanketís damage. Also cleans and conditions leather tack. Contact Peg Adair at 509-547-8991 or apj54@charter.net if interested. Cleaning services pricing is as follows:


Winter Blankets: $20/each or $35/two (add $2 With Hood)
Lightweight Turnouts: $15
Fly Sheet: $10
*Barn Rate - Winter Blankets: $14
*Barn Rate - Lightweight Turnouts: $13
*Barn Rate - Fly sheets: $8
*(Barn rate eligibility requires 6 or more blankets)

Note: for the winter season, barn rates for horse blanket cleaning, will increase $2 per blanket. This is due to cost of dryer time vs. blankets air drying of summer months.

Pick-up and delivery is available free of charge for six or more blankets at Richland Riders Club or Cooper Saddle Shop (located 1002 Cedar, just off of Swift Blvd). Blankets are to be pre-paid; repair cost will be collected at time of delivery.
PET GROOMING
Affordable and competent horse grooming with basic grooming excluding hoof care at $12, main and tail braiding at $15 and bathing at $15. Contact Angelica Castilla at mr.tigsmama@gmail.com or 1-509-492-8469 for additional information.
EQUINE INSURANCE
Hello! I'm coming out in a couple of weeks for the Hay Growers Expo and thought I'd spend some extra time introducing myself to some of the local equine facilities. Combining my passion for horses with my expertise and training as a Certified Insurance Counselor, Certified Risk Manager, and Agricultural & Farm Insurance Specialist, I work with the equine industry and horse owners to make sure folks understand what that box of insurance policies is covering. I do this by conducting a free risk review, discussing Insurance 101 (what does it all mean?), reviewing values for buildings and equipment, and confirming that the price they are paying is for coverages they want and need. As a specialty Equine Agency, we understand the needs of the industry: protection for camps, pony parties, rehab, clinics & shows, vehicles used for farm activities, covering values in hay and tack, choosing to insure or not insure horses in your care, mortality & major medical, etc. We have all-star stable of Equine carriers: Travelers, ACE/Chubb, American Bankers/American Reliable, Oregon Mutual, AEIG, ACE/Chubb, Markel, to name a few. Please check my website out at http://www.equineinsuranceshop.com/ or email me at debbie.dunlop22@gmail.com for more information. Debbie Dunlop. CIC, CRM, AFIS